January 19, 2022
API3 and Amberdata Launching Amberdata Beacons, Offering Cost-Effective and Transparent Data Feeds for Smart Contract Developers at ETHDenver 2022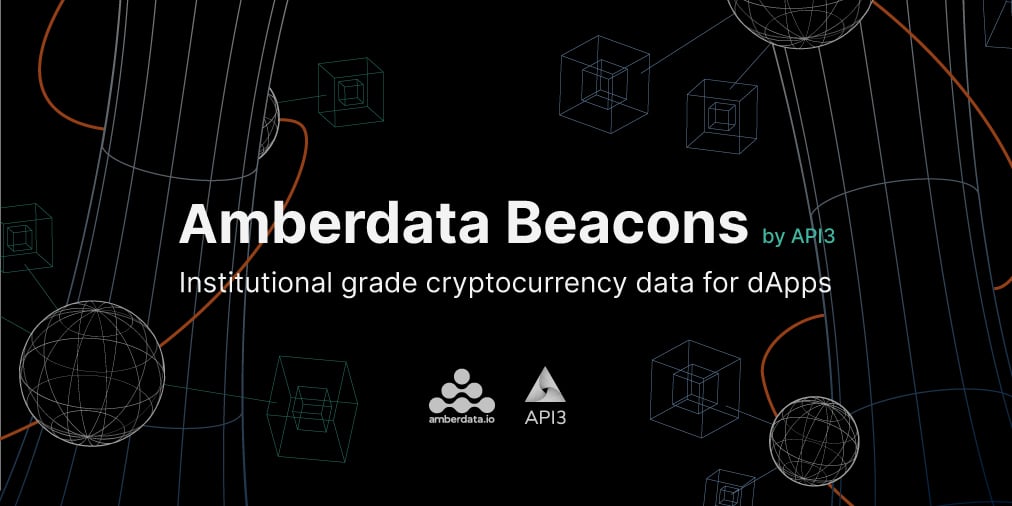 More than 3,000 dApp developers will have the opportunity to build on Amberdata's API3-powered data feeds at ETHDenver 2022.
API3, a leading first-party blockchain oracle solution providing a seamless Web3 wrapper that enables Web API providers to offer their data directly on-chain, in partnership with top digital asset data provider Amberdata, announced today the launch of Amberdata Beacons. These API3-powered data feeds will be available for use by thousands of developers expected to attend the upcoming ETHDenver #BUIDLATHON from February 11-20, 2022.Introduced in December 2021, API3's Beacons create a transparent, scalable, and cost-effective solution for data providers to publish data feeds on-chain directly. Beacons represent a unique offering in the ecosystem that is generating excitement among developers and major blockchain protocols alike.

"The structure of traditional data feeds conceals where information is sourced, due to a lack of transparency from third-party oracle nodes, ultimately preventing developers from selecting data sources based on their real-world reputations. Beacons improve on this opaque model by harnessing the benefits of first-party oracles, where the data sources feed their data directly on-chain instead of going through 3rd-party intermediaries." said Heikki Vänttinen, co-founder of API3. "Looking ahead, Beacons will be the building blocks of our dAPIs, alongside being offered as a standalone service."

To empower immediate traction on Beacons, API3 is partnering with Amberdata, the leading provider of digital asset data and insights into blockchain networks, crypto markets, and decentralized finance, to launch official Amberdata Beacons at ETHDenver. Trusted by top organizations across the blockchain and financial sectors, Amberdata is known for offering the most comprehensive institutional grade on-chain data. The partnership between Amberdata and API3 promises to equip developers and protocols with a trusted, comprehensive, and convenient data solution.

In tandem with the launch, API3 is serving as the official DeFi Track sponsor of ETHDenver, the largest and longest running Ethereum event in the world. As such, API3 representatives will have a strong presence at the event to support developers and ensure they are equipped with the tools and knowledge to successfully build on Amberdata Beacons over the course of the nine day event.

"At a critical time in the development of Web3, partnering with API3 and its novel first-party oracle solution enables us to reach an even broader audience of developers and projects, ensuring they have the most comprehensive, high-fidelity data to power DeFi and new applications," said Shawn Douglass, CEO of Amberdata.

Built on API3's open source Airnode, Beacons are continuously updated data feeds, each powered by a single first-party oracle, and make it even easier for Web3 projects to build on API3's first-party oracle technology. Key benefits include:
Cost-effectiveness: When compared to traditional oracles, Beacons require fewer parties to publish data on-chain. Because data comes from a single, reputable provider, data reliability is assured without the added expense and unnecessary complications associated with achieving consensus among 3rd-party oracle nodes.
Transparency and trustworthiness: Beacons are inherently transparent and more trustworthy compared to oracle nodes operated by 3rd-party middlemen. Reputable data sources themselves are the most incentivized to protect their hard-earned reputations by providing top quality data.
Expansive data sources: Because the technical requirements imposed on providers implementing API3s technology are minimal, providers can easily set up Beacons to offer their data on-chain. More providers ultimately means that API3 will vastly expand the universe of data feeds available to dApp developers.
ETHDenver was fittingly chosen as the venue to launch API3's Beacons, as it remains the largest Web3 hackathon in the world for blockchain protocol enthusiasts, designers, and developers. The event is community funded and functions as a platform to provide developers with the tools and funding to build the decentralized future.
"ETHDenver 2022 is set to be the most exciting iteration of our #BUIDLATHON yet, and we're thrilled to offer Amberdata's API3-powered Beacons to our participating developers," said Shannon Ewing, Sponsor Steward for ETHDenver. "It's going to be a fantastic event, and the addition of Beacons will only make it better."

Read the press release HERE.